Products
---
Anionic Polyelectrolyte Liquid
---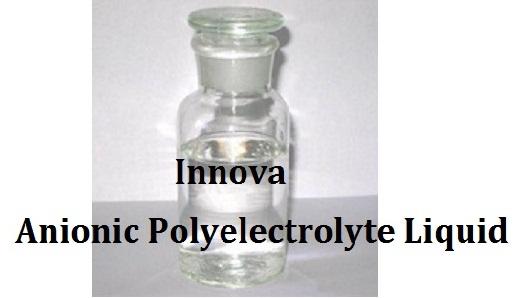 ---
We at Innova Priority Solutions, are Manufacturers, Exporters, Suppliers, Importers of Anionic Polyelectrolyte, Liquid Anionic Polyelectrolyte.

The polymer flocculants are also copolymers of acrylamide with acrylie acid and acrylic esters. Anionic Polyelectrolyte liquid are fluid form and liquid grade polyelectrolytes and used for the same purpose with powder grade anionic polyelectrolytes.
They can perform at the field both better or worse in view of wastewater character due to differences of copolymerization technics and polymer chain structure eventough both form has the same anionicity and equivalent molecular weight values.
In comparison with powder grade anionic polyelectrolytes, liquid grade ones are more advantagous in terms of solution preparation time required.
Benefits:
Small Dosage
Retention Time Is Low
Forms Tough, Dense & Compact Flocs
Rapid & Complete Coagulation
Sludge Volume Compaction
Fast Settling & More Filterable Flocs
Energy Consumption Is Less
Applicable Under Slightly Acidic To Neutral Ph Conditions
Treated Water Can Be Easily Discharged Or Reused For Other Applications
For More Click On The Products From Product List Or.
Call Us at


Or E-mail Us at
---