Products
---
Mud Balance
---
---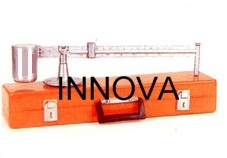 ---
Mud Balance is a simple method for fast and accurate determination of density of the drilling mud. We Innova Priority Solutions, are one of the leading Exporter, Manufacturer & suppliers of Mud Balance from Delhi.

The Mud Balance has a volume sample cup with a lid, connected to a graduated arm, a moving rider, knife edge and a built in spirit level measuring the density of the drilling fluid in 4 different ranges.



.72-2.88 specific gravity
6-24 pounds per gallon
45-180 Pounds per cubic foot
310-1250 Pounds per square inch per 1000 foot of depth


The balance is made of a special aluminium alloy.
We deals in a good range of Industrial Drilling Testing Equipments, we serves it in all over world with best quality.
For More Click On The Products From Product List Or.
Call Us at


Or E-mail Us at
---